Creating a Modern Bathroom Design With Mosaic Tiles
Mosaic tiles can invigorate the look of a bathroom by creating a visually appealing accent. There are a number of ways to incorporate mosaic tile to give bathrooms a new and modern look.
Use Mosaic for an Accent Wall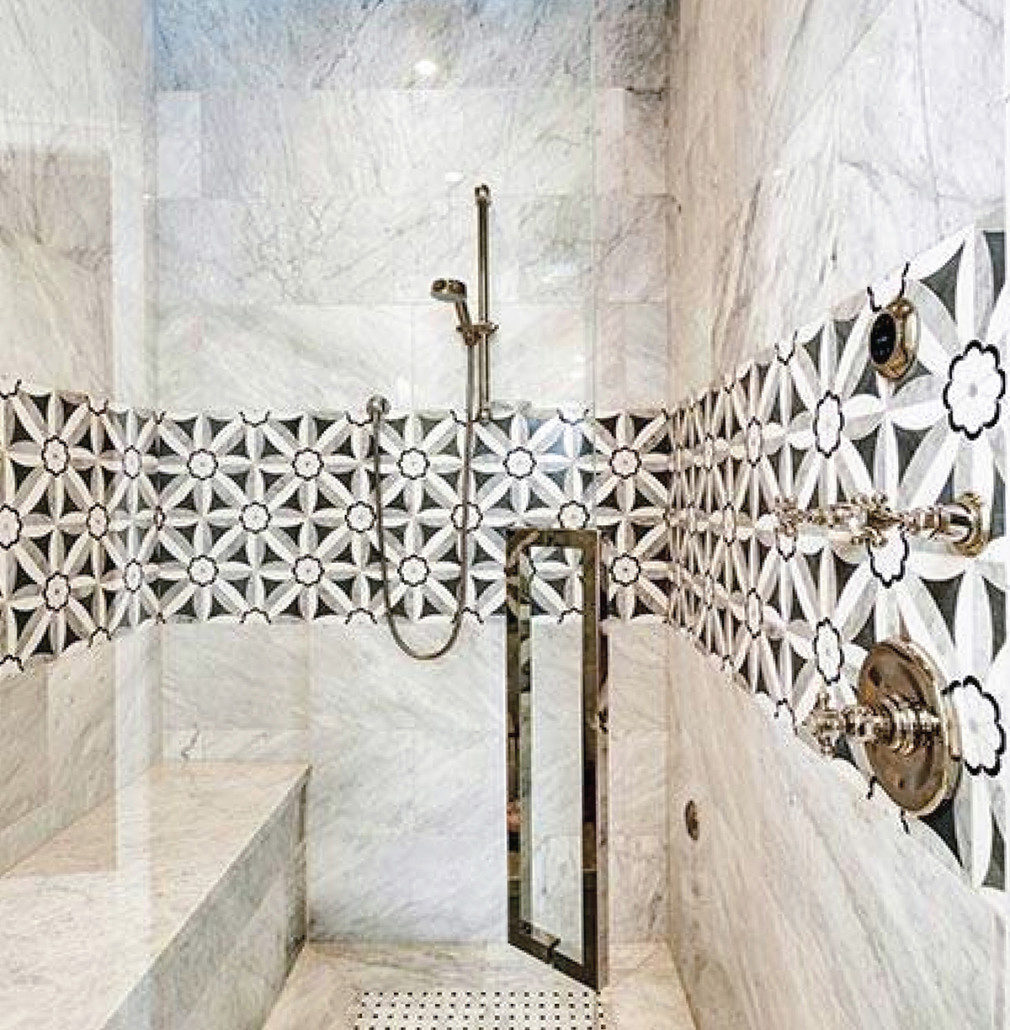 Accent walls are a popular way to add variety and interest to a room. Normally achieved by painting one wall of a room a different color, accent walls can also be created with mosaic tile. Consider using glass mosaic tiles to create contrast on the shower or bath wall, emphasizing and setting apart a wall that might otherwise fade into the background.
Create an Interesting Floor
Tile is often the best choice for bathrooms because it won't be damaged by water and it's easy to clean. But just because it's the obvious choice for bathroom floors doesn't mean it can't be interesting. There are a number of eye-catching patterns to choose from when it comes to tile, and colorful bathroom floors are becoming more popular. Make the mosaic tile really pop by painting the rest of the walls a neutral color, letting the floor be the focal point.
Make a Space Appear Larger
Bathrooms are often the smallest room of a home, and, with the wrong decor, they can feel a bit cramped. Mosaic bathroom tile can be used to visually expand the room and make it appear larger. Long, vertical tiles can give the appearance of a higher ceiling in a bathroom. Similarly, wrapping a border with interesting mosaic can make the walls seem longer and wider. Larger patterns on mosaic walls can similarly create an open space, or create the illusion of a larger floor by adding a tiled mosaic "rug."
Dress Up a Bathroom With a Mosaic Backsplash
Patterns like chevron can add a touch of class to a bathroom when used as a backsplash. This is a great way to add some color and brightness to a bathroom without having to fully remodel the walls or floors.
Tile is a versatile surface that is easy to install and easier to maintain. If you're ready to create a modern bathroom design with tile, explore the selection offered by Savannah Surfaces. We provide indoor and outdoor surfacing materials at our Hardeeville, SC showroom. Call Savannah Surfaces at 843-784-6060 to learn about our offerings today.

https://savannahsurfaces.com/wp-content/uploads/2019/08/NewRavenna_EdieShower-1010x1030.jpg
1030
1010
Chandler
https://savannahsurfaces.com/wp-content/uploads/2022/03/savannah-surfaces-logo-retina-300x142.png
Chandler
2019-08-15 15:29:46
2019-08-16 20:32:55
Creating a Modern Bathroom Design With Mosaic Tiles